The Solitaire du Figaro comes to the Isle of Wight in 2016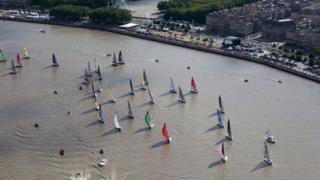 The Isle of Wight is to host some of the world's top sailors at next year's Solitaire du Figaro, it has been announced.
The solo yacht race will span 1,525 miles (2,454 km) between Deauville, Cowes, Paimpol and La Rochelle.
The island hosts the event from 22 to 26 June, tying in with its Festival of the Sea celebrations.
Cowes deputy mayor Mark McNeil said it could put the town "on the map as the UK and Europe's sailing capital".
He added: "A real spectacle of the sea and a showcase of top level sailing, the Solitaire will attract crowds from both the island and mainland to the Isle of Wight."
A race village with food markets and live music is to be set up in the town. About 20,000 visitors are expected to attend.
Cowes Town Council, Cowes Business Association, Cowes Harbour Commission, Cowes Yacht Haven and Red Funnel are all involved in the event.
The annual race begins in Deauville, France, on 19 June.
Competitors will dock at Cowes Yacht Haven on 22 June, before continuing the race five days later, and eventually finishing in the French city of La Rochelle on 7 July.