'Lucky' Labradoodle Lily rescued from Eastleigh well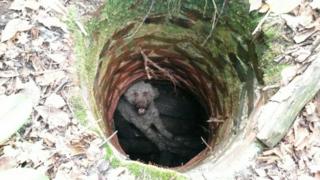 A labradoodle has been rescued from an Eastleigh well after its disappearance sparked an overnight search.
Four-year-old Lily went missing while being walked in woods off Chestnut Avenue on Saturday afternoon.
A search, which lasted into the early hours and led to a Facebook appeal, ended when whimpering was heard coming from woods off Nightingale Avenue.
Lily was 2m (6.5ft) down and pulled out by a Hampshire Fire and Rescue Service animal rescue specialist.
The dog was rescued using an extendable pole with a noose at just after 10:00 GMT.
Rescuer Anton Phillips said: "Lily is one lucky dog as she landed on a log around 2m down, when the well is likely to have been a lot deeper than that.
"There is a lot of emotion involved in rescues like this for the owners, often as much as any house fire.
"It's important they call specialists like us to deal with them, rather than try to carry out the rescue themselves and create an even bigger problem."