Isle of Wight Council in contract dispute with Island Roads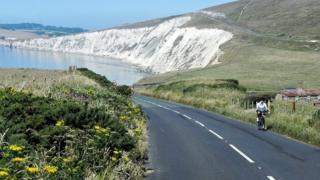 Isle of Wight Council is in dispute with its highways company over a "significant" amount of money.
The council and Island Roads, which is two years in to a 25-year contract for the authority, have "formally entered in to a contractual dispute".
In a report to a full council meeting, councillor Phil Jordan wrote: "I cannot indicate the value of the disputed matters, but it is significant."
Consultants Atkins were appointed to resolve contract concerns in February.
Reports from the firm are yet to be published.
Adjudication started
Mr Jordan said: "A year-long attempt at resolving identified contractual issues finally concluded unsuccessfully in October and we have now formally entered into contractual dispute with Island Roads Services Ltd through a contractual process of adjudication."
It is expected the adjudication process will be resolved in three months.
The council and contractors have the right to enter in to court proceedings after the process.
He wrote: "Due to the nature of the legal process, I cannot provide any further detail."
Isle of Wight Council transferred the maintenance of the island's highways to Island Roads in 2013 for 25 years, when it was led by the Conservatives.
A spokeswoman for Island Roads said: "The process of adjudication is not unusual for contracts of this size and scope, however we have sought to avoid this position through our negotiations with the Isle of Wight Council.
"The process is a legal one and we will therefore not be commenting further at this stage however we wish to reassure residents that our programme of highway improvement work continues as usual."
A council spokeswoman said: "The matters for dispute centre on the interpretation of the extent of Island Roads' responsibilities under the contract.
"The process is expected to take a number of months to come to a resolution, and as a confidential legal process, neither partner will be providing further comment for the duration of the proceedings."