John Darling Mall respite centre closure approved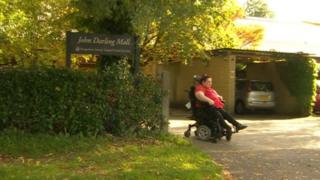 A respite centre for people with disabilities is due to close by March after a council decision.
A majority of people, more than 70 out of 100, had been in favour of keeping John Darling Mall in Eastleigh open.
Hampshire County Council's executive member for adult social care approved a recommendation to close the centre.
The council said in a report the closure would save £370,000 and it would offer alternative services to people needing care.
Councillor Liz Fairhurst said the decision had not been taken "lightly" but there had been a "decline in demand for respite at JDM" and significant investment would be required to bring the building up to modern standards.
"Those who currently use John Darling Mall will continue to receive respite support and we will work closely with them, and their families and carers, to identify the most appropriate options to meet their needs, both now and in the future," she said.
A petition set up by users and others to save the centre was signed by 500 people.
Built in 1985, the council-owned centre serves up to 24 adults with physical disabilities and some adults with learning disabilities.
Six flats are leased to Stonewater Housing Association and these residents would only be obliged to move once alternative accommodation had been found.
The county council said it would redevelop the site for "extra care" assisted living housing for adults with disabilities.
Some of the 23 members of staff have already taken voluntary redundancy and the council said it would help to find suitable alternative employment within the authority.