Hedgehog wrapped in elastic band for life dies from infection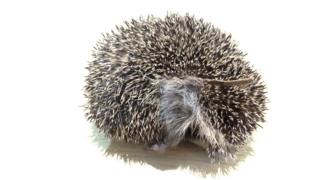 A hedgehog thought to have spent its life with an elastic band constricting its body has died despite efforts to save it.
The animal was found stumbling around in daylight by a mother and daughter in Basingstoke, Hampshire.
The band had cut into the skin under its front legs leading to infection.
A vet at an animal hospital treated the hedgehog. "Sadly this poor creature could not be saved," RSPCA inspector Nikki Denham said.
It is believed the hedgehog became entangled in the band when it was young and grew with the band tightening around its body.
It was treated at Hart Wildlife Hospital near Alton, but had to be put down two days later.
"This poor hedgehog was clearly uncomfortable and his wounds from the elastic band being wrapped around him so tight had left him not only raw and very sore but struggling with a nasty infection that had really taken hold of him.
"This is something that should remind us just how dangerous litter of all kinds is for wildlife," said Ms Denham.