Earlier Iguanodon teeth fossils announcement discovered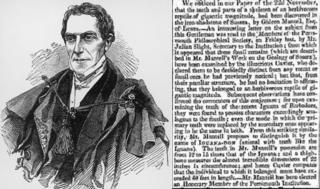 A landmark announcement in the early study of dinosaurs was made in Hampshire, not London, it has emerged.
Gideon Mantell was thought to have revealed a find of Iguanodon teeth fossils in a letter to the London Society in February 1825.
However, palaeontologist Martin Simpson unearthed a report of it mentioned at a meeting in Portsmouth, two months prior to the publication.
He said it was a "fascinating and important" discovery.
The teeth, along with other fossil finds, were later drawn on by scientists in the early study of what were eventually named "dinosaurs".
Mantell's wife Mary Ann is believed to have found the reptile teeth in Cuckfield, Sussex, sometime before 1822.
The first public announcement about "Iguanodon", which Mantell named after advice from fellow palaeontologist William Conybeare, was thought to have been in 1825.
But a Hampshire Telegraph article mentioned discussion of the find at the Portsmouth Philosophical Society on 17 December 1824.
The paper reported: "He had no hesitation in affirming that they belonged to an herbivorous reptile of gigantic magnitude ... Mr Mantell proposes to distinguish it by the name of Iguana-don [sic]."
There was fierce rivalry among the scientific community - not least between Mantell and rival Richard Owen, who some historians suggest later claimed much of the credit for Mantell's work. Owen came up with the term "dinosaur".
---
Gideon Mantell
Born 1790 in Lewes, Sussex. Died 1852
Developed an interest in geology and fossils while working as a surgeon
As well as Iguanodon bones, also found a prehistoric behemoth, the heavily-armoured Hylaeosaurus, which he officially named in 1833
Some historians even suggest he was the man primarily responsible for discovering the dinosaurs
---