New Zealand helicopter crash: Tribute paid to Hampshire couple killed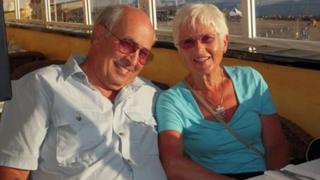 The family of a Hampshire couple killed in a helicopter crash in New Zealand have paid tribute to the holidaymakers who were on "their last big adventure together".
Nigel and Helen Charlton, aged 66 and 70, were one of two British couples who died when the aircraft crashed on the South Island on Saturday.
Andrew Virco and Katharine Walker, from Cambridge, were also killed.
Mr and Mrs Charlton's family said they were "heartbroken" by the news.
'Remain travelling'
"They were very adventurous when it came to travel and this holiday was to be their last big adventure together," the statement, issued by the Foreign and Commonwealth Office, said.
"None of us were expecting their adventure to continue in the way that it will.
"We are grateful that they remain travelling together but heartbroken that their new itinerary started the way that it did."
Neighbours and friends of retired dentist Mr Charlton and his wife described the pair as "big personalities" who were "very active" in the local Dunbridge community in Romsey, where they lived.
Cathie Wood, 71, who had known the couple for 40 years, said Mr Charlton was "very generous, very loving" and said Mrs Charlton was "a great needlewoman" who loved dressmaking and knitting.
She said Mr Charlton was a "big fan" of trains and had built a signal box in their garden, which backed on to a railway line.
He was also a member of Romsey Male Voice Choir and had previously worked in Totton, near Southampton.
The couple leave two children and three grandchildren.
The Fox Glacier crash site is on the island's remote west coast, which is a popular tourist area.
Also among the dead are Sovannmony Leang, 27, and Josephine Gibson, 29, both from New South Wales, Australia; and pilot Mitchell Gameren, 28, from Queenstown, New Zealand.
The bodies of four of the seven victims have been recovered so far.
Attempts to recover the remaining bodies of those who died have been postponed until at least Wednesday.
Bad weather at the Fox Glacier has hampered attempts to reach the site.