Farnborough airport airspace changes 'should be reviewed'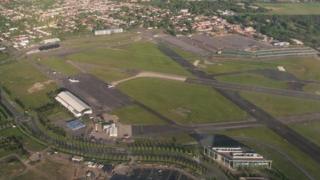 A second consultation should be held into extending Farnborough Airport's airspace, a council and an MP said.
East Hampshire District Council (EHDC) and Alton MP Damian Hinds have both raised concerns about TAG Farnborough's plans to change its flight paths.
They urged the Civil Aviation Authority (CAA), currently considering the plans, to order a new consultation.
TAG Farnborough said the CAA has paused its decision process to review the plans, though this was not unusual.
Mr Hinds and the council have cited the impact on residents and concerns over the first consultation.
The airport is planning to double the amount of air traffic it receives by 2019 and says the changes are needed to ensure safety.
TAG Farnborough said the CCA had paused to assess the "technical, implementation aspects and airspace sharing arrangements".
'Very concerned'
Ferris Cowper, leader of EHDC, said the council is "strongly opposed to the proposed flight path changes because of the serious adverse impact on residents and businesses".
"We are also very concerned that the appropriate processes were not followed during the consultation," he added.
An initial response to the first consultation was published in August 2014 and the company produced a further document on 3 July 2015.
Mr Hinds said he was worried the revised proposals had not been subjected to enough scrutiny.
He said: "These changes could have a significant impact on local communities and it is only right that people have the opportunity to fully understand the proposals through a new and open consultation."
TAG Farnborough did not comment on the criticisms of its plans or the calls for a new consultation.