NHS admits safety breach over Fareham mobility scooter death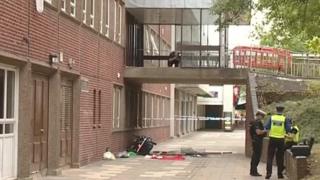 The NHS has admitted breaking health and safety laws over a pensioner's death on a mobility scooter.
John Withers, 82, died when he fell nearly 4m (12ft) at a NHS medical centre in Fareham in September 2012.
Mr Withers crashed through a first floor glass-panelled walkway while riding the scooter.
An earlier inquest heard evidence that safety barriers on the walkway were severely affected by white rot decay. Sentencing is due on 16 December.
The NHS Litigation Authority pleaded guilty at Portsmouth Magistrates' Court. The trusts which were responsible for the building at the time are no longer in existence.
Charges against the organisation were brought by the Health and Safety Executive (HSE).
A post-mortem examination showed Mr Withers died of head injuries and had not suffered a heart attack or other medical episode.
A verdict of accidental death was recorded at an inquest at Portsmouth Guildhall in July.
On 16 December a hearing is due to take place at Portsmouth Crown Court for sentencing. The NHS said it would not comment until afterwards.