Portsmouth plans council tax rise and £11m budget cuts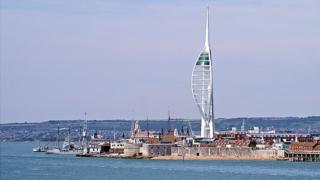 Portsmouth residents are facing a 2% council tax rise next year as the local authority announces proposed cuts and redundancies.
The city council plans to slash £11m from its next budget and wants to cut funding in areas including health, bus services and community centres.
It claimed the cuts and tax increase are in response to a residents' survey.
Leader Donna Jones said the city faced "extremely difficult decisions" in a "very tough financial climate".
More than 80% of survey participants backed a council tax increase to help protect services, so the council is proposing a 2% rise, which will be decided at a full council meeting on 9 February.
'Unprovoked attack'
The authority said the cuts would mean 100 posts being made redundant, but that more than a third were already vacant and "a large proportion" of redundancies were expected to be voluntary
The proposals include a £300,000 cut in chlamydia screening, a £200,000 a year reduction in payments to bus operators and a £44,000 cut in funding for community centres.
Reductions could also include £39,400 from nicotine replacement therapy and saving an estimated £25,000 a year by cleaning seafronts only when needed in the winter, instead of following a rigid schedule.
The union Unison described the move as an "unprovoked attack" on council staff.
It said the announcement also revealed paid time allocated to union representatives to guide and represent council staff when in dispute, or concerned about workplace practices, had been "cut in its entirety".
James Smith, from Unison, said staff had not been consulted on the matter.
A petition launched against the plans has, so far, attracted over 200 signatures.
The proposals will be discussed at a full council meeting on 8 December.
Meals on Wheels and heating subsidies for older people will be protected, as will funds to keep roads and the city centre clean.