Syria conflict: Portsmouth brothers jailed for terrorism offences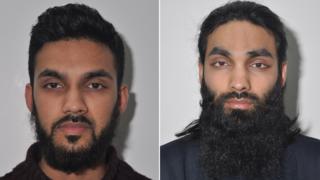 Two brothers have been jailed for six years each after being found guilty of preparing terrorist acts.
Tuhin Shahensha, 27, and Mustakim Jaman, 23, both of Portsmouth, were convicted at Kingston Crown Court.
The court heard the brothers assisted others and allowed their bank accounts to be used to transfer money for terrorist purposes.
Shahensha was sentenced to six years for preparing terrorist acts and six years for preparing to travel.
The sentences are to run concurrently.
Bought equipment
His brother Jaman was sentenced to six years for preparing terrorist acts.
He will also serve two months concurrently for possession of a mobile phone in prison.
The brothers helped five Portsmouth men, four now dead, to travel to Syria.
During the trial it was also revealed they bought equipment and made plans to travel to the country and engage in acts of terrorism.
Their brother Ifthekar Jaman died in 2013 shortly after he spoke to the BBC and said he was fighting for the so-called Islamic State (IS) group.
He told the Newsnight programme it was his "duty" to go the country because Muslims were "being slaughtered".
'Drumbeat in background'
Judge Paul Dodgson said: "This was the celebration of terrorist acts and you both played an important part in providing moral support and on occasions engaging in acts, which were done with the intention of assisting others to engage in acts of terrorism.
"It is right that you did not go to fight, but you were the drumbeat in the background, providing support for those who had gone and encouragement to those who might."
Det Ch Supt Richard Humphrey, head of the South East Counter Terrorism Unit, said: "At no point did Shahensha or Jaman plan to attack the UK, however due to the intention of travelling to Syria and the potential of radicalisation taking place, we needed to intervene.
"The sentences at court here today reflect this and the threat they posed with their actions."
Both men will serve half of their terms in custody and the rest on licence.