Visit Isle of Wight proposes levy plan to fund tourism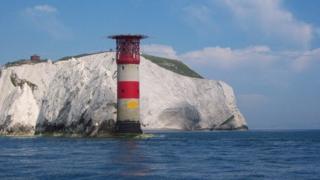 Plans for Isle of Wight businesses to fund visitor marketing are being promoted by tourism bosses.
Earlier this month the island's council confirmed it was ending its annual £330,000 grant to the Visit Isle of Wight (VIOW) consortium.
VIOW has released proposals for the island to become a Destination Business Improvement District (D-BID).
Chairman, Simon Dabell said hotels, shops and attractions could "decline and close" without new funding.
When the council ended its funding earlier this month, citing budget pressures, VIOW said it only had enough reserves from its other private funders and advertising revenue to pay for essential marketing and its website until next summer.
Tourism accounts for about a third of the island's economy; in 2013, 2.28m visitors contributed more than £280m.
The D-BID proposal would involve businesses receiving money from tourism paying 1.75% levy of their rateable value towards a five-year marketing plan.
VIOW's proposal suggests a large hotel would pay about £800 per year and a small restaurant £200. It estimates an annual fund of £800,000 could be generated.
Mr Dabell said: "As the policy of austerity continues, the days of government or local council support for destination marketing have all but gone.
"In a changing world the D-BID will provide stability and the ability to plan with confidence."
A consultation is running until January, after which the D-BID would have to be ratified in postal ballot of businesses.
Martin Simpson of the Isle of Wight Visitor Attractions Association said the island's tourism businesses faced "bigger issues" such as ferry prices, the need for an effective TV marketing campaign and improvement work in towns and villages.
"People are saying they are happy to give money, but they want it democratically done with some sort of say in how it is spent," he said.
D-BIDs were introduced in 2011 as an alternative to public sector funding support for the tourism industry.
Visit Isle of Wight Ltd was set up three years ago as a Destination Management Organisation involving the council and private bodies including ferry companies.