Portsmouth A&E diverted more than 30 patients because of 'exceptional demand'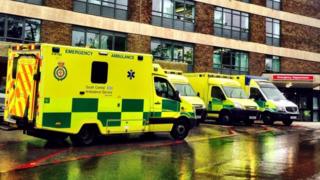 Emergency patients had to be diverted to other hospitals because of "exceptional demand" at an Accident and Emergency unit, the BBC has learned.
On three days between 28 October and 7 November, the Queen Alexandra Hospital in Portsmouth sent 34 patients to Chichester and Southampton's A&E units.
Those with "time-sensitive" or "life-threatening" issues were still seen.
The hospital trust said "unprecedented numbers" of "frail and elderly patients" had needed urgent care.
It was "rare" to take a decision to divert emergency patients, said a Portsmouth Hospitals NHS Trust spokesperson, who added such a call was "based on safety needs... during periods of exceptional demand".
Queen Alexandra Hospital told BBC Radio Solent it diverted nine patients to Southampton General on 5 November.
On 28 October, it took one to St Richard's Hospital in Chichester and 11 to Southampton.
South Central Ambulance Service confirmed a further 13 patients were also diverted on 7 November, the majority sent to Southampton.
'Too many delayed'
In June, healthcare inspectors released a report which said patients attending A&E at Queen Alexandra Hospital were "at risk of unsafe care and treatment".
By August, the chief inspector of hospitals in England said the most serious concerns had been addressed.
In October, trust chief executive Ursula Ward wrote to the Clinical Commissioning Group (CCG) raising concerns the hospital was running at occupancy rates "frequently well in excess of 94%".
She said a key objective was to free up acute beds, as up to 130 patients in the hospital were waiting to be discharged at any given time.
Dr James Hogan, of NHS Portsmouth CCG, said "too many people" were delayed as they moved within Queen Alexandra Hospital or when they were ready to be discharged.
The hospital trust as a whole is rated as "outstanding" by the Care Quality Commission.