Would citizens' assemblies work?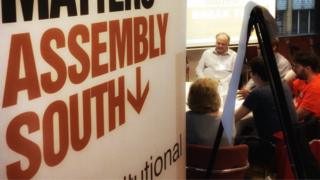 Take 35 strangers off the street, put them in a room for the weekend and ask them to devise a new form of government.
It sounds like madness, but then is the current system much saner?
That was the experiment being run by Southampton and Sheffield university professors over the past couple of weeks, and I had a ring-side seat.
Citizens Assemblies have been used in other countries. Ireland famously changed the law on same-sex marriage as a direct result of their citizens' suggestions at a constitutional assembly.
An adviser from Ontario was at the British pilot schemes, passing on experience from their own use of what's called participatory democracy.
Random strangers
YouGov selected two groups of people in Sheffield and Southampton, balanced by gender and where they live. They hadn't met before, they didn't need to have an interest in politics or be a party member, or even have voted.
You start the weekend with an almost entirely blank piece of paper. Then hear presentations from experts. But mostly it is down to the people clustered around each table to reach their own conclusions.
Facilitators are at each table to encourage equal input and calm down arguments. The first thing they did was to draw up their own ground rules for discussion.
There was a buzz of unanimity in the room. But so far, so much voting for Motherhood and Apple Pie, now the tricky part, the citizens at the Assembly South and Assembly North were being asked to consider ideas for English devolution.
Up until now, the experts running these pilot assemblies say, it has all been done behind closed doors. The Electoral Reform Society's Katie Ghose puts it this way: "As the Government seeks to devolve powers towards local areas, they need to include citizens and not simply deliver their chosen solutions from above.
"These assemblies are a real chance to shape the devolution agenda so that it genuinely involves the people which it affects."
Southampton University's Professor Will Jennings is helping run the project: "The recent proposals to devolve more powers to local government represent an exciting moment in shaping how Hampshire and the Isle of Wight are governed.
"The views of local people have not yet been part of the dialogue between central government and the regions."
Bonfire Night
Now when the devolution is finally signed off - and I am told that Local Government Secretary Greg Clark will be visiting on 5 November, Bonfire Night - there may be some sort of public consultation.
But right now getting public approval would require knowing what you want the public to give approval to.
At the moment that is far from clear. The bid is to retain 100% business rates for example, but that seems to be off the table. The government wants an elected mayor, but instead Hampshire and IOW are proposing a "Leader Board" (Geddit?) that would be accountable only to the councils the leaders are drawn from.
So at the first weekend of this historic first English Citizens Assembly I have to report that very little progress was made towards finding new ways of doing local government.
The idea of a cross between the drafting of the Magna Carta and a scientific lab experiment feels promising.
Everyone got on very well. The potential for new ideas is there. But we have to hope that at the second weekend in November there will be a bit more meat on the bone of English devolution. Something more that a random meeting of minds can really get its teeth into.