More time over US 'fugitive' Roger Giese extradition case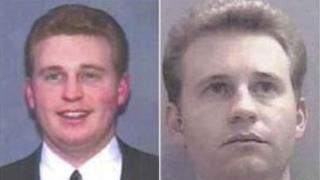 The US government has been given more time to confirm it will not breach the human rights of an alleged American paedophile it wants to extradite.
Roger Giese, 40, who is charged in California with sexually abusing a boy under the age of 14, has been on the run from the FBI since 2007.
The former choirmaster has been living and working in a Hampshire village under a different name.
An extension until 30 October has been granted at the High Court.
US authorities had until 16:00 BST to give UK judges an assurance that he would not be subjected to a civil commitment order - a form of indeterminate confinement.
He is charged with abusing the boy from 1998 until 2002, while he was working as a voice coach for the All-American Boys Chorus.
The extradition request from the United States was certified by the Home Office in May 2014, and Giese was arrested on June 4 last year.
An earlier decision to refuse the request to extradite him to the US was upheld at the High Court on 8 October.