Portsmouth councillors vote to end asylum hub status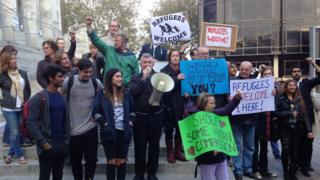 Councillors in Portsmouth have voted to request that the city is no longer used as a hub for asylum seekers.
The motion, carried by 21 votes to 16, with one abstention, is intended to ends the city's status as a refugee "cluster area".
Those supporting the move said Portsmouth had been a designated hub for 15 years but no longer had the capacity or funds.
Opponents said the city could and should do more to help refugees.
Earlier, campaigners waved "refugees welcome" placards at Guildhall Square, while others, some with skull and crossbones balaclavas, put up an anti-refugee banner above the civic office entrance.
Councillors were asked to vote on whether to ask the Home Office to take the city off the list of South East cluster areas, where people seeking asylum can live while their claims are processed.
The city had 124 asylum seekers from April to June this year - 43% of the total in the region but 0.45% of the UK total.
Conservative councillor Luke Stubbs, who put forward the motion, said: "Any addition to the number of asylum seekers housed in the city will put an undue strain on already stretched local services."
Lib Dem Gerald Vernon-Jackson said other similar-sized towns, such as Rochdale and Oldham, were taking far more refugees than Portsmouth.
Speaking at the protest, Simon Magorian, of Stand Up To Racism, said any future voting elsewhere on this issue would be known as "doing a Portsmouth", if councillors voted in favour of withdrawal.
The anti-refugee protesters declined to be interviewed.
Anna Griffin, from the Red Cross in Portsmouth, said: "It would be a tragedy for Portsmouth to step away from supporting vulnerable people at a time when we need councils across the country to step up."