Royal Navy divers complete underwater marathon challenge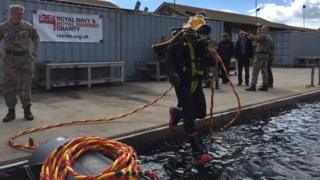 A group of Royal Navy mine clearance divers based in Portsmouth have walked a marathon underwater for charity.
The 14 divers from Fleet Diving Squadron, at Horsea Island, completed the 26 mile (42km) walk in the lake at their base in 25 hours.
The divers took turns to walk the 1km (3,280ft) length of the lake in pairs, wearing air cylinders and lead-lined boots.
They completed the challenge five hours under their target time of 30 hours.
They expect to raise £5,000 for the Royal Navy and Royal Marines Charity (RNRMC) which helps sailors, marines and their families from the event.