Recovered HMS Hood bell to go on display in Portsmouth museum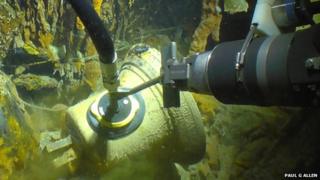 The bell of sunken World War Two battlecruiser HMS Hood will go on display in a Portsmouth museum.
It was recovered from the bottom of the Denmark Strait, between Greenland and Iceland, by US philanthropist Paul G Allen on 7 August.
HMS Hood was sunk by the Bismark on 24 May 1941, costing 1,415 lives and leaving only three survivors.
The bell will now be restored and then is set to be displayed at the National Museum of the Royal Navy.
It is in good condition, but will require a year-long conservation effort because it has spent so long in deep seawater.
Prof Dominic Tweddle, director general of the museum, said: "It will be an honour and privilege to display the bell from HMS Hood."
'The Mighty Hood'
Mr Allen's team led the operation using his 414ft (126m) luxury yacht, Octopus.
He said: "This effort commemorates the hundreds of brave sailors who were lost at sea.
"It is a true honour to undertake the expedition to recover the bell from 'The Mighty Hood'."
The bell was first discovered and photographed in July 2001, when it was found lying on the seabed away from the battlecruiser's hull.
In 2012, Mr Allen led an expedition to try to recover it, but was hampered by weather conditions and technical difficulties.
---
The sinking of HMS Hood on 24 May 1941 sparked a huge Royal Navy pursuit of the Bismarck, which ended with her destruction three days later...