Upton Grey and The Candovers residents attempt to pay for policeman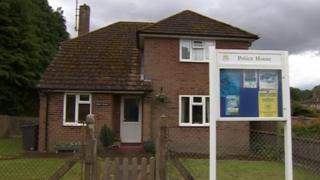 Residents living in villages near Basingstoke have responded to police cuts by offering to pay for their own beat bobby.
PC Andrew Reid, a beat police officer for Upton Grey and The Candovers for over a decade, is set to be relocated under efficiency savings.
A group of residents has offered to pay £60,000 a year to keep him.
Hampshire's Police and Crime Commissioner (PCC) said a decision had not yet been made on the proposal.
Following a meeting with residents, PCC Simon Hayes said: "What we've been talking about is how communities perhaps can support policing in different, more innovative ways, and we need to think about that in more detail."
PC Reid, who lives in a police house in Preston Candover, is to be relocated in Tadley, about 15 miles away, as part of a county-wide restructuring of neighbourhood policing.
The force has implemented £55m of cuts since 2010 and is expected to have lost 1,000 officers by 2017.
Upton Grey and Candovers Parish Council has also offered to sponsor a marked 4x4 police response vehicle.
The council said the beat officer would still remain part of Hampshire Constabulary and is adamant the plan would not interfere with the chief constable's operational independence.
It said the sponsored police response vehicle could be redeployed in the event of "exceptional policing need" elsewhere, and any agreement would be reviewed after six months and thereafter on an annual basis.
Hampshire Police Federation said the plan risked creating a "two-tier" service, with affluent communities able to pay for better police coverage.
Chairman John Apter said: "I know there are many communities who would like the opportunity to have more policing, but can't afford the extra money to pay for it.
"It's a dangerous path to go down, and undermines the model of policing that we hold dear."