Proposal for more cuts to Isle of Wight library service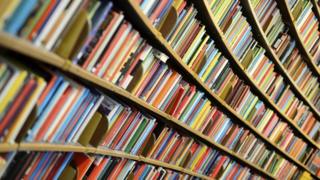 The Isle of Wight Council is proposing to save £280,000 by making more cuts to its library service.
Opening hours at three out of six public libraries - in Cowes, Freshwater and Ventnor - would be reduced and be joint run by the community.
Its mobile library service would also have its routes reduced.
A consultation on these plans, which comes after five of the island's libraries were taken over by volunteers in 2011, is open until 6 September.
'National austerity'
If the proposals go ahead, it would mean opening hours are reduced from around 24.5 hours to 21 hours per week.
The council would continue to fund the libraries at Newport, Ryde and Sandown but would share the running costs of those at Cowes, Freshwater and Ventnor with the local community.
The independent-run council said these proposals were necessary in order to save £28m in its annual spending plans by March 2017.
Councillor Shirley Smart, who oversees the librIsle of Wight council says library cuts were necessary to save £28m by 2017ary service, said: "Our position is strongly influenced by the national austerity agenda to make the most effective use of the limited resources available to us."
Volunteers took over the running of five libraries in Bembridge, Brighstone, East Cowes, Niton and Shanklin in 2011 after they were threatened with closure.