Jamie Dack murderers' jail time reduced on appeal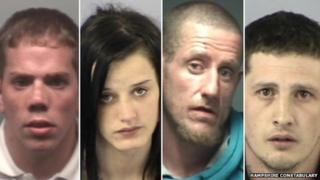 Four murderers who killed a homeless man and burnt his body in a bin have had their sentences reduced on appeal.
Donna Chalk, Andrew Dwyer-Skeats, Lee Nicholls and Ryan Woodmansey were jailed in 2013 for Jamie Dack's murder.
The charred remains of Mr Dack, 22, were discovered in a bin at Empress Road Industrial Estate, Southampton, on 8 April 2012.
The four, all serving life sentences, were granted cuts of between three and five years to their minimum tariffs.
At the Court of Appeal, Chalk's minimum tariff was cut from 25 to 20 years and Dwyer-Skeats' was reduced from 32 to 29 years.
Nicholls' minimum term was reduced from 34 to 31 years and Woodmansey's from 30 to 27 years.
The Court of Appeal heard Mr Dack was subjected to a prolonged attack at a flat in Bevois Mews in April 2012.
He was put in a wardrobe and left bound and gagged for a whole day by the four killers, who attacked their victim using knives, a baseball bat and bottles.
Lord Justice Treacy ruled that 31-year-old Nicholls's minimum jail term was "manifestly excessive" despite his "leading and most significant role" in the murder.
Dywer-Skeats, 29, and 35-year-old Woodmansey's jail terms were also reduced "to maintain proportionality" with Nicholls.
The judge said as Chalk, now 24, was 20 at the time and "a damaged individual" she could be distinguished from the others.
Chalk and Dwyer-Skeats had appeals against their convictions dismissed.
On hearing the decision, Jamie's father Ed said: "Though we would much rather the sentences were not reduced for any of the four convicted we are respectful of the court's decision and we are pleased they still remain substantial."