Isle of Wight teenager Natasha Lambert awarded BEM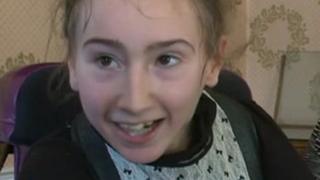 An Isle of Wight teenager with cerebral palsy who has raised more than £50,000 for charity has been recognised in the Queen's Birthday Honours list.
Natasha Lambert, from Cowes, was born with atheroid cerebral palsy which affects her limbs and speech.
In her adapted yacht, the 17-year-old, who has been awarded a BEM, has sailed solo round the Isle of Wight, across the Channel and from Cowes to London.
"I can't believe I've been chosen for this amazing honour," she said.
Her 21ft-long (6.4m) boat, Miss Isle Too, has been adapted to allow her to steer by sucking and blowing into a tube.
Last year Natasha, who started sailing when she was 12, was named Yachting Journalists' Association Young Sailor of the Year.
She has also completed a climb up Pen Y Fan peak in the Brecon Beacons, as well as a two-mile walk from St Katharine Docks to the Bank of England in London using a special walker.
Earlier this year, she launched her own charity to enable other young people to learn the "sip and puff" method of sailing.
She said: "I just enjoy doing what I do. It's great people get behind it, but really anyone could do it."