Isle of Wight Festival: Kyle Birch teddy bear stage bid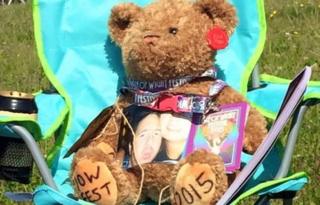 The family of a man from Portsmouth who died two days before Christmas have taken a teddy bear to the Isle of Wight Festival in his memory.
Kyle Birch, who was due to go to the festival, died in his sleep on 23 December, aged 26.
His family have started a Facebook appeal asking festival-goers to take selfies and take him crowd surfing.
They hope the bear will make it on to the main stage with Sunday night's headliners, Fleetwood Mac.
Some artists on the festival line-up have already pledged their support.
The family revealed they had been contacted by You Me At Six singer Josh Franceschi who said: "We'll make sure this happens."
Southampton band The Novatones also tweeted: "We have a special guest Kyle the bear joining us on stage @IsleOfWightFest @JohnGiddings01 @HardRockLondon"
Mr Birch's uncle, Mark Mudie, said the response on social media to their appeal had already been overwhelming.
He said: "It's generating such great love and shows just how nice and good hearted people can be."
Mr Birch, who worked at as a theatre nurse at Queen Alexandra (QA) Hospital in Portsmouth, is believed to have suffered from Sudden Adult Death Syndrome, his family said.