Southampton's former Ford Transit site is being offered for sale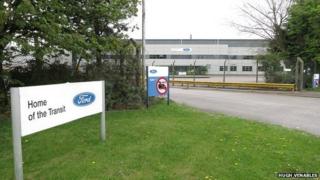 A sale of the former Ford Transit van factory in Southampton could be completed by the end of July, Southampton City Council has said.
Around 500 jobs were lost and 100 years of Ford production in the UK ended after Ford moved production from Swaythling to Turkey two years ago.
Commercial agents Cushman & Wakefield are selling the site on behalf of Ford.
The authority said it was "delighted" but warned the site must be sold for employment and not housing.
Delays in selling the former plant were due to "internal governance" at Ford, the council said.
Council leader Simon Letts described it as "one of best" employment development sites in the country because of its proximity to the port, motorway, railway and airport.
The council has produced a document to guide future development at the site.
"The development brief says this is an employment site. Nobody can be buying the site thinking they can get it use for housing because we have made it clear that that's not what we want," he added.
The Transit factory closed in July 2013 and production moved to Turkey, where Ford said costs were "significantly lower".
Former workers were either redeployed, took voluntary redundancy or early retirement.
Cushman & Wakefield was unavailable for comment.