Bishop's Waltham Sainsbury's supermarket plan scrapped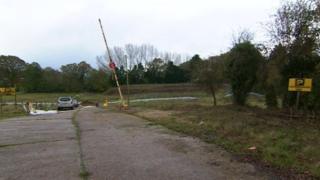 A proposed Sainsbury's store at the centre of a planning row in a Hampshire town will not now be built, the supermarket giant has confirmed.
Campaigners fought a two-year battle over the plans, arguing the store would have a negative impact on Bishop's Waltham's character and High Street.
But many residents also backed the 35,000sq ft (3,250sq m) development.
Sainsbury's said the store was "no longer viable" following a strategy review.
In November the supermarket chain said it was scaling back its capital building programme in light of the company's profits being hit by the rise of discount supermarkets.
A Sainsbury's spokesman said: "Since the proposals were first announced, shopping patterns have changed considerably
"We have been extremely grateful for the level of local support for the scheme and recognise that this news will be very disappointing to many people.
"We will work closely with the council and others to look at longer-term options for the site and will keep the community updated."
As part of the development, Sainsbury's had said it would help finance the £1.6m relocation of the town's doctors' surgery to the site and the store would create more than 300 jobs.
Meon Valley MP George Hollingbery expressed concern about the surgery having to remain in "cramped" conditions.
He said he hoped the land would be sold for housing.
"I only hope that a sale is completed as soon as possible so that local residents will know what the future holds," he added.