Fareham Borough Council approves 6,000-house Welborne new town plan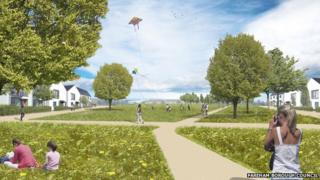 Plans for a new 6,000-house town on green field land between Southampton and Portsmouth have been given council approval.
Fareham Borough Council adopted the Welborne Plan, which sets out proposals for the development north of the M27.
Opponents of the scheme said it would "urbanise" the countryside and questioned the provision of traffic, health and education infrastructure.
The plan also includes four schools, shops and community facilities.
Nearly a third of the homes built are due be classed as "affordable".
'Defend best bits'
Executive leader of the Conservative-run council Sean Woodward said: "People need homes. We have 1,357 families as of today on our housing waiting list. On average, they will wait five years for a home - we want to do something about that."
Residents in nearby villages have protested against the plans, claiming they would have a detrimental effect on the countryside.
Michael Carter, of the Wickham Society, said: "We all agree, we're very lucky to live in Wickham and we'd like to make sure the best bits are defended. So we're a bit concerned this mass of people may change attitudes and there may be competition for the local shops - we just don't know."
The Campaign to Protect Rural England has also previously criticised the scheme as "neither wanted or needed".
"Existing Fareham residents ought to prepare themselves for yet more traffic congestion, increased journey times and worsening air pollution," a spokesman said.
Last month an independent planning inspector ruled two documents setting out the planning policy were sound, paving the way for the council decision.
Building work is due to start in 2016. The new town is due to be completed by 2038 with an eventual population of 15,000 people.