Gardener unearths WWII hand grenade in Liss, Hampshire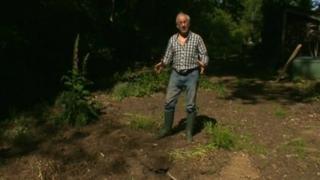 A hand grenade thought to have lain undiscovered since World War Two has been unearthed by an unwitting gardener who hit it with his rake.
John Neilan was working behind his house in Liss, Hampshire, when he "hit something hard" buried in the ground.
He said he was not too surprised by the find, as the area had been "full of ammunition stores" during the war.
Twenty homes in Newfield Road were evacuated, and the explosive was destroyed by Army bomb experts.
Mr Neilan, who made the discovery at 11:22 BST on Saturday, said the area had been full of ammunition stores during the war.
"I was digging up the tree stump and I had got the tree stump out OK and as I was raking the earth back in to the hole, I realised the rake had hit a solid object.
"I saw it was a hand grenade, it was very rusty."
Hampshire Fire and Rescue Service alerted police, who put up a cordon around the area as a precaution.