Hampshire Police criticised for 'moronic' car crash tweet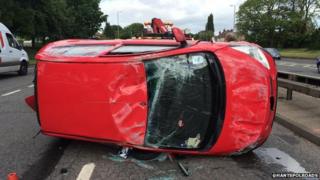 People have attacked a tweet by a roads policing unit asking readers to identify the brand of a crashed car.
Hampshire Police posted a photograph of a red car on its side, asking people to "retweet for a Hyundai i20 or FAV for a Vauxhall Corsa".
Some people called the tweet "inappropriate", but it was also described as "moronic".
"We were simply trying to show the impact of the crash. We didn't mean to offend," the @HantsPolRoads responded.
"Getting some negative replies to crashed car tweet.
"The driver was not injured in this incident. We were trying to highlight how much a car can be damaged in a crash."
'Game out of crash'
No one was seriously injured in the crash on Wednesday on Redbridge Road, Southampton.
A number of people called the post "inappropriate", "irresponsible" and "making light of someone's traumatic experience."
Ian Taylor said: "Not inappropriate in the slightest. Absolutely moronic."
Alex Oates said: "A game out of a crash? What's next? 'did the driver/cyclist/pedestrian live? RT yes, FAV no?'."
Wayne Herridge said he had reported the post to Twitter as an inappropriate tweet.
A spokesman for Hampshire Police said two vehicles were involved in the collision and the driver of the red Hyundai had to be freed by Hampshire Fire and Rescue Service.
Nobody was seriously injured in the crash.