Hopes for Isle of Wight's only ice rink after community bid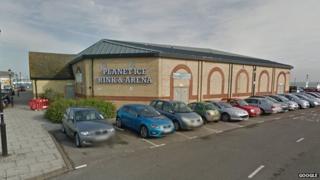 Hopes have been raised for the future the Isle of Wight's only ice rink following a takeover by a community group.
Staff at Planet Ice, in Ryde, were told in February the rink would close because it was making a loss.
Campaigners formed the Ryde Arena Trust which has negotiated a new lease with investment company AEW.
Chairman Ian Jenkins said it was "fantastic" news but the project would need continued support.
He said the ice rink, which closed on Friday and employed 40 staff, was making a £160,000 annual loss but pledged it would be "run better".
More than 10,000 people signed an online petition to save the rink.
Self-funding
Mr Jenkins said: "There has been a ground swell of community support underpinning this to make it happen.
"We are really hopeful. My feet are firmly on the ground and know we need capital to make this happen."
The trust plans to re-open the rink on Tuesday under a new name and hopes it will be quickly self-funding.
About £8,500 was raised to pay for legal costs and fund raising will continue to support the rink in the first months.
Mr Jenkins was involved in a successful project to save Ryde Swimming Pool five years ago, leading it from a £250,000 loss-making venue, back into profit.
The rink is home to Wightlink Raiders Ice Hockey Team and is used by a number of figure skaters.
The nearest rink is on the mainland at Gosport 24 miles away - a 1 hour 40 minute journey via a ferry.