Royal Berkshire Hospital eye patient wait times 'unsatisfactory'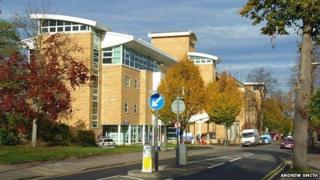 Almost two thirds of eye patients at the Royal Berkshire Hospital are having to wait more than 18 weeks to see a specialist.
Government targets say 90% of patients should be seen within that time.
However, hospital figures from February show 41% of ophthalmic patients were seen within 18 weeks, with some waiting almost 35 weeks.
Berkshire West Clinical Commissioning Groups (CCGs) have described referral times as "less than satisfactory".
In a statement, Berkshire West CCGs said they were working with health bosses on a "recovery plan", which was "already paying dividends".
The majority of patients with long waiting times had cataracts, "where the clinical risk is low", it said.
Together with NHS England, the CCGs have temporarily increased funding "to help clear the current backlog".
"We expect that national targets for ophthalmology will be met by October this year", they added.
The hospital, in Reading, declined to comment.