Hayling Island's only ferry stops crossings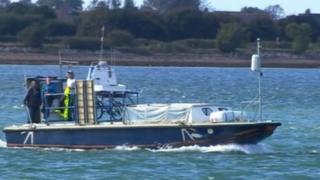 The only ferry linking an island off Hampshire to Portsmouth has stopped operating, with the company set to appoint administrators.
About 70 school children and commuters face a 32-mile round-trip instead of a three-minute ride on the Hayling Island Ferry to Eastney.
The Hayling Island Ferry company said it had filed a notice at court to appoint administrators.
Last year, the firm was fined £6,000 for carrying too many passengers.
Earlier, it tweeted "closed" on its account.
The Tina Marie vessel is certified to carry 12 passengers and two crew, but landed between 16 and 27 passengers at Hayling Island, during four crossings in January and February last year.
It was also put out of action for months after technical problems and safety breaches.
A spokesman for the ferry company said chartered accountants Baker Tilly had been approached to assist the directors of the company.
The service has been running for more than 200 years.
Boats can travel up to 30 times a day during the week.