Blake Fowler, 7, died after 'unacceptable errors in tackling abuse'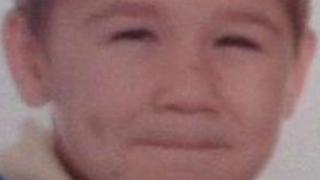 A boy died from a severe head injury after authorities failed to act for years while he suffered abuse, a serious case review has found.
There had been "long-term concerns" about Blake Fowler's safety, the Southampton Local Safeguarding Children Board concluded.
Blake, 7, died at his home in Southampton in December 2011.
His mother, stepfather and step-uncle were arrested, but prosecutors dropped the case through lack of evidence.
In December, the Crown Prosecution Service (CPS) decided no further action would be taken against Sarah Spacagna, Blake's stepfather Peter Meek and his brother Philip Meek.
An inquest in 2013 heard Sarah Spacagna and Peter Meek were guilty of an "appalling and disgraceful failure to prioritise the needs of Blake" and had fallen "woefully short" as parents.
Missed opportunities
Keith Makin, of the Southampton Local Safeguarding Children Board, said: "His family were well known to local services in Southampton as a result of domestic abuse.
"The serious case review highlighted several missed opportunities to help Blake and a number of significant failures in our child protection system."
The board said the "errors made in this case were simply unacceptable".
The first allegations of ill-treatment of Blake were made in November 2007.
The report found staff at Blake's pre-school and his school failed to make child protection referrals on a number of occasions, despite explicit evidence of injury and inappropriate sexualised behaviour.
'Unacceptable failings'
In one example, just before starting school in September 2008, Blake was referred to Children's Social Care Services (CSC) by Southampton General Hospital after presenting with a bruised penis and facial injuries.
The consultant paediatrician specifically gave a view some of Blake's injuries had been deliberately inflicted.
The review said this hospital admittance was a particularly "significant missed opportunity".
Southampton City Council said it apologised for the "unacceptable failings of the city council during Blake's life and at the time of his death in 2011".
Hampshire Constabulary said its original investigation into Blake's death was "not to the required standard".
Ch Supt David Powell said: "We will never know with any real certainty whether we missed an opportunity on the first occasion but we do know that what we eventually presented to CPS was very thorough and we are satisfied the second investigation was thorough."
The council said it has since set up a new group - the multi-agency safeguarding hub, Mash - which had "transformed the way we work to protect children, providing a coordinated and timely response".
The service involves the police, health and social security departments pooling resources in dealing with cases.
---
Blake Fowler timeline
October 2005 - Fourteen-month-old Blake treated in hospital for facial bruising, said to be caused by a fall, and old burns, said to be caused by accidental contact with a hot iron
June 2008 - Workmen near Blake's home contact the NSPCC after seeing him with facial injuries
September 2008 - Days before starting school, Blake is admitted to hospital with facial injuries and a painful, swollen penis
April 2010 - Blake seen to have bruising to his head by school staff
January 2011 - School notes bruising to Blake's face - staff also note Blake mimicking sexualised behaviour
June 2011 - Blake attends school with a black eye
December 2011 - He is taken to Southampton General Hospital with serious head injuries. His condition deteriorates and he dies the following day
---