Campaigners win judicial review over Winchester's Silver Hill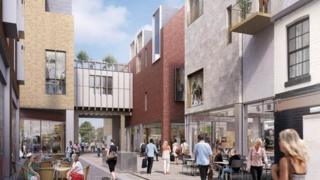 The future of a £165m city centre development in Winchester is uncertain following a High Court decision.
Conservative councillor Ken Gottlieb won a judicial review into the council's procurement procedures surrounding the Silver Hill scheme.
A judge said the council had acted unlawfully in allowing the developer to revise plans without putting the scheme back out to commercial tender.
Winchester City Council said it was considering its options.
They include abandoning the existing approved scheme and starting again, the council said.
The authority said the legal judgement did not affect planning approval for the city centre redevelopment, which includes homes, shops and public spaces.
A spokeswoman for the developer, TIAA Henderson Real Estate, said it would carefully consider the judgement before deciding what to do.
Mr Gottlieb, who formed the campaign group Winchester Deserves Better against the scheme, said it would destroy the historical character of the city centre.
The group wants the council to come up with a new design.