Winchester Cathedral's 'royal bones' chests analysed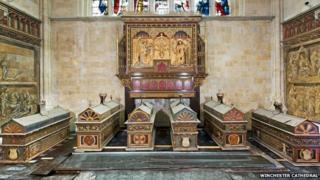 Six chests thought to contain the remains of some of the early Royal Families of Wessex and England are being recorded and analysed.
The project is part of an initial assessment of Winchester Cathedral's Renaissance mortuary chests.
The remains of three bishops and other artefacts are also believed to be contained inside.
Some of the remains have already been radiocarbon-dated to the late Anglo-Saxon and early Norman periods.
'Secrets revealed'
The Dean of Winchester, the Very Reverend James Atwell, described it as "an exciting moment" for the cathedral.
"Winchester holds the secrets of the birth of the English nation and it does seem that some of those secrets are about to be revealed as future research continues," he said.
"The presence of the bones in the cathedral, where they would have been placed near the High Altar and the relics of St Swithun, remind us just how significant the inspiration of the Christian faith was for the foundation of our national life."
It is hoped the chests, which have recently been resting in the cathedral's Lady Chapel, will be conserved as part of King's and Scribes: The Birth of a Nation project.
It will include a three stage exhibition space in the cathedral's South Transept, designed to make the 12th Century Winchester Bible more accessible and retell the history of the cathedral and its Anglo-Saxon origins.
The radiocarbon-dating has been carried out by researchers at the University of Oxford.
Work to record of the contents of the chests will be done by the University of Bristol.