Cars smashed by falling tree in Southampton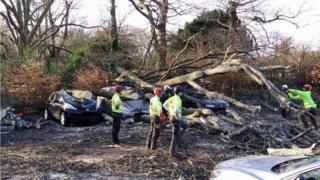 Several cars were crushed when a tree came down in high winds in Southampton.
Eight vehicles were damaged when the large tree toppled over in a car park near The Cowherds pub at Southampton Common on Wednesday.
No-one was hurt and tree surgeons were called to help clear the scene.
Last year an 85-year-old man was killed by a falling tree while walking on the common.