Chandler's Ford EDL protest leads to man's arrest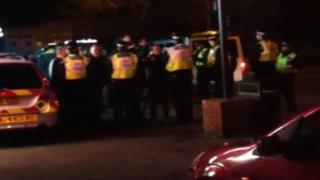 A man was arrested during a protest by members of the English Defence League (EDL) in Chandler's Ford.
The protest at Chandler's Ford Methodist Church on Saturday evening was over a conference to discuss plans to create a Muslim community centre.
Hampshire Constabulary said specially trained officers formed a line between the two groups "to ensure there was no physical confrontation".
The man, 24 and of Farnborough, was held over public order offences.
Mohammed Ansar, organiser of the conference, said they had hired the church to "bring together Muslims across Hampshire, aimed at talking about the needs of the Muslim community".
An EDL spokesman said the group held the protest to "stand against the Islamisation of our country".