Hoegh Osaka: Poor weather delays salvage operation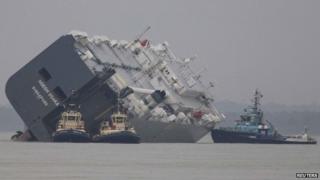 A cargo ship stranded near a busy shipping lane is unlikely to be moved until next week due to poor weather.
Winds of up to 55 miles per hour have caused delays to the salvage operation to pump water from the Hoegh Osaka, stuck in the Solent and re-right it.
Salvors were unable board the ship on Monday because of the weather.
The ship was deliberately beached on 3 January at Bramble Bank, after it began listing as it left the Port of Southampton in Hampshire.
Hugh Shaw, of the Maritime Coastguard Agency (MCA), said: "The important thing is the vessel is stable, there are a number of tugs connected to her 24/7.
"There's been no pollution but I think once this bad weather goes through, I would certainly think we're looking at a minimum of five to six days' work thereafter before we would be thinking about bringing her back to port."
The Hoegh Osaka floated free from the sandbank on the high tide last Wednesday and has since been anchored at a spot two miles (3.2km) east, called Alpha Anchorage, near Lee-on-the-Solent.
On Saturday, one of the tugs helping to keep the ship in place collided with the vessel and had to be replaced.
Salvors pumped water from the ship for one to two hours and checked the ballast system on Sunday.
Water entered the ship when an excavator in the cargo shifted and punched a hole in the hull, which has since been repaired.