Cargo ship Solent: Stricken vessel 'refloat delayed'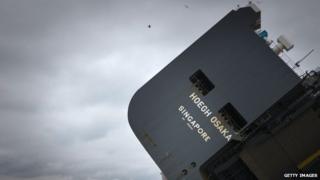 A stricken cargo ship in the Solent will not be refloated on Wednesday, the Maritime and Coastguard Agency (MCA) has confirmed.
The Hoegh Osaka was deliberately run aground on Saturday and is listing at 52 degrees on Bramble Bank.
Bram Sperling of salvors Svitzer had said conditions could be favourable for a refloat at high tide on Wednesday.
But the MCA said this had been delayed after the discovery of more water on the vessel.
During a press conference in Southampton earlier, Mr Sperling said there was some water inside the ship after some of the cargo had shifted, resulting in a "small opening in the vessel" which had since been closed.
A refloat was the preferred option to avoid further damage to the ship from the sandbank.
A second option would be to anchor it to the sandbank while plans are made to right its current position.
An MCA spokesman said calculations by the salvors had revealed more water had entered the vessel than previously thought.
"The preparation for the refloat will therefore take longer than the weather window will allow tomorrow," the spokesman said.
"The alternative option of securing the Hoegh Osaka will be followed and preparations for the refloat will continue when the weather allows."
Salvage experts from Svitzer boarded the ship on Monday where they began carrying out an assessment to form a rescue plan.
Speaking at a press conference after the grounding, Ingar Skiaker, chief executive of Hoegh Autoliners, said the crew deliberately ran the ship aground off the Isle of Wight to avoid further damage.
There are 1,400 cars on board, including 1,200 Jaguar and Land Rover products and 65 Minis, as well as 105 JCB machines.
The ship is also carrying 500 tonnes of fuel, most of which is marine diesel oil. Experts plan to leave this aboard for the time being, as it has been secured and poses no risk to the environment.
Two crew members out of 25 rescued by RNLI Lifeboats and the Solent Coastguard on Saturday suffered non-life threatening injuries.
Two senior officers and a pilot stayed on board before being taken ashore.
The 51,000-tonne transporter, registered in Singapore, set sail from Southampton for Germany at about 20:20 GMT on Saturday.