Northam Bridge Southampton repairs: Road delays expected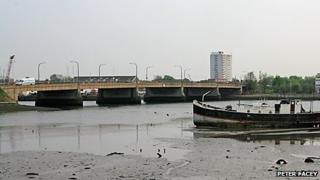 Motorists are set to face delays as five months of work begins on one Southampton's busiest commuter routes.
The 1950s-built Northam Bridge, which carries the A3024 road as a dual carriageway, is having a waterproof layer added.
Lane closures and a reduced speed limit have been put in place while the £1.2m work is carried out.
The city council said the work was "critical" and a strategy was in place to minimise delays.
About 35,000 vehicles use the bridge over the River Itchen each day.
John Harvey, of Southampton City Council's highways department, said: "We're anticipating delays on the approaches to the bridge in the peak hours.
"I know its not easy but drivers can help us by travelling outside peak times, car-sharing and taking alternative routes," he added.
The upgrade, which forms part of the government's £317m pinch-point programme on motorways and major trunk roads, is expected to be completed by May.