Seawater treatment plant considered for Southampton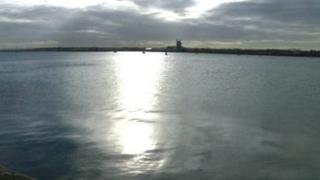 A £20m plant which turns seawater into drinking water, is being considered for Southampton.
The desalination facility, which would serve the city and the Isle of Wight, is needed to avoid predicted water shortages, according to company behind the scheme, Southern Water.
The plant would produce up to 20 million litres of water per day in times of drought or low rainfall.
If it goes ahead, the plant is expected to be completed by 2028.
Southern Water said it will now conduct an environmental impact assessment for the development.
Desalinisation removes the salt from sea water via osmosis - purifying the water by filtering it under high pressure.
Hampshire was in official drought status in March 2012 following two dry winters which left rivers and ground waters depleted.
Hosepipe bans were put in place by Southern Water when levels in reservoirs became too low.
The water firm was also granted drought orders in the region in 2006 following more than 16 months of dry weather.