Southampton norovirus outbreak spreads to maternity unit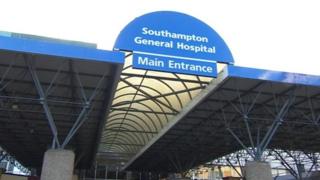 A norovirus outbreak at Southampton General Hospital has spread to at the city's maternity unit.
A two-bed bay has been closed on an orthopaedic ward at the Princess Anne Hospital, which is located across the road from the general hospital.
Eight wards have been affected at the general hospital, four have been shut to new admissions while beds on a further four have been closed.
Visitors have been asked to stay away unless absolutely necessary.
People suffering from sickness and diarrhoea have also been urged to call NHS Direct on 111, instead of visiting A&E.
Dr Graeme Jones, director of the infection prevention unit, said: "We are still seeing people self-present to our emergency department with no other symptoms but sickness and it is really important these people avoid coming to us when other options for advice are available.
"Those who do have urgent medical problems but are also suffering from sickness or diarrhoea or have been in contact with someone who has symptoms should tell staff about it immediately so they can be treated separately to avoid risk of spread."