Ebola crisis: Orphan charity joins fight in Sierra Leone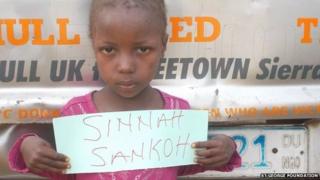 A charity set up by a Hampshire churchgoer has begun helping orphans from Sierra Leone whose parents have died from the Ebola virus.
The St George Foundation is caring for 18 children, who are either orphaned or homeless as a result of the virus, at its centre near the capital Freetown.
It offers up to six weeks of care, including tracing families.
Philip Dean, of Swanmore's St Barnabas Church, founded the charity in 2004 for the country's civil war orphans.
He said the foundation, which works with the Sierra Leone government and UNICEF, needs to raise £200 to help each child recover from the deadly virus, to provide skilled counselling and trace any remaining relatives they may have.
"The children come to us weak, needing recuperation, highly traumatised and in shock," he added.
"They come with no possessions, as everything contaminated has been destroyed."
He said normal medical facilities have shut down in the capital since the virus spread there, which has stopped them getting treatment for other illnesses too.
Sierra Leone has overtaken Liberia to have the highest number of Ebola cases, World Health Organization figures show.
Victor Willoughby, one of Sierra Leone's top doctors, died on Thursday from the virus.
The virus has killed more than 6,800 people this year, mostly in Sierra Leone, Liberia and Guinea.