Blake Fowler 2011 death: No charges to be brought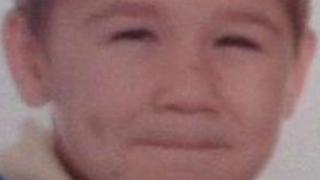 Three family members who were arrested in connection with the death of a seven-year-old boy in Southampton will have no charges brought against them.
Blake Fowler died from a severe head injury in December 2011.
His mother, step-father and step-uncle were arrested in the city in April, following a reinvestigation of the circumstances leading to his death.
The Crown Prosecution Service decided there was insufficient evidence and the three have been released, police said.
'Detailed investigation'
The police reinvestigation was prompted by an inquest into Blake's death, which recorded an open verdict in November 2013.
Police in Southampton previously apologised for the "unsatisfactory" inquiry into Blake's death.
A post-mortem examination held after Blake's death at his home in Cromarty Road, Southampton, found that he died of a brain haemorrhage.
Blake's step-father, Peter Meek and his brother Philip Meek were arrested on suspicion of murder and causing or allowing the death of a child and Blake's mother Sarah Spacagna, 28, was arrested for causing or allowing the death of a child.
They have all been released without charge and the case has now concluded, police said.
In a statement, the CPS said: "Following a thorough review of all the available evidence, including the inquest findings and the outcome of related family court proceedings, it was decided that there was insufficient evidence to prove to the required standard that Blake's injury arose from an unlawful act, or who was responsible for any such unlawful act.
"It was also not possible to prove the required elements for a prosecution for child cruelty.
"Therefore there was insufficient evidence to provide a realistic prospect of conviction against anyone."
Detective Chief Inspector Vicky Dennis said: "A team of detectives from the Hampshire Major Investigation Team conducted a thorough and detailed investigation into the circumstances that led to Blake's death.
"We acknowledge the decision of the Crown Prosecution Service."