Wyllie oil painting loaned to Portsmouth Museum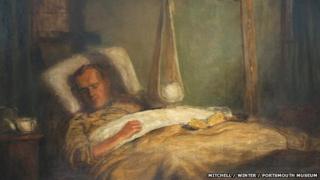 An original W L Wyllie oil painting of a wounded World War One soldier lying in a Hampshire hospital has been loaned to one of the county's museums.
The Shadow of the Cross of War was painted in 1918 at the University War Hospital Southampton.
It now will feature as part of Portsmouth Museum's Lest We Forget exhibition commemorating 100 years since the start of World War One.
Wyllie is largely celebrated for his maritime works.
The National Museum of the Royal Navy describes him as "one of the leading and most prolific marine artists at the turn of the century".
In contrast to his images of ships at sea, and of warfare, the painting shows the tranquil image of a sleeping soldier.
The university's buildings were offered to the War Office as a hospital in 1914.
---
Factfile: William Lionel Wyllie
Born in London in 1851, and trained at Heatherley's Academy and the Royal Academy
Moved to Portsmouth with his wife and seven children in 1906, living at the Tower House in Tower Street at the entrance to Portsmouth Harbour
His works include The Track of Lusitania, The Battle of the Nile, and The Opening of Tower Bridge
Died in 1931 aged 80. Funeral held at Portsmouth Cathedral
Source: Portsmouth City Council
---
The painting was loaned to the museum by Carolyn Way Mitchell and Ceri J Winter, who bought it in memory of a cousin, L/Cpl Paul Stephen Morris, who was in the Royal Signals.
Ms Mitchell said: "War is sad, and losing my young cousin was a tragedy.
"Our painting shows optimism and survival and in turn keeps the memory of Paul alive.
"We hope that sharing our painting will encourage people to stop and think of those who are affected by war and loss in any form."
The painting will be on display until 25 January.