Isle of Wight wind turbines at HMP Camp Hill refused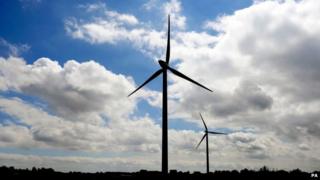 A proposal to build two 125m-high (410ft) wind turbines at the site of a former prison on the Isle of Wight has been rejected.
The application, for land at HMP Camp Hill next to Newport's Parkhurst Forest, received 659 objections and 79 support letters.
Campaign group The Wight Against Rural Turbines (ThWART) welcomed the refusal.
John Mills, from applicant Partnerships for Renewables, said they were yet to decide on whether to appeal.
"Our belief is that the case is likely to be strong, but we'll wait to see what the written reasons for refusal are before making a final decision," he said.
The Isle of Wight Council's environmental health officer said in a report to councillors that predicted noise levels would exceed government limits.
Other concerns raised included the impact on the environment and the turbines' proximity to housing.
Those who wrote in support said the renewable energy it would produce would be beneficial.
Mr Mills said they believed the officer's assessment of noise impacts was "flawed".
ThWART chairman Malcolm Peplow said: "Should the developer decide to appeal against it, we will give our full support to Isle of Wight Council at any public inquiry.
"ThWART will continue to fight against any further plans to build giant wind turbines at inappropriate locations on the island."