Further Hepatitis A case in Portsmouth school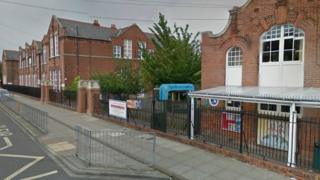 Health officials are planning to vaccinate all children and staff at a Portsmouth school following a further case of Hepatitis A.
Children from selected classes at Devonshire Infant School were vaccinated in November after seven cases of the infection in one family.
Public Health England (PHE) said the further case suggested "transmission may have occurred within the school".
The vaccination is now being offered to all 180 pupils and about 30 staff.
It is also being offered as a precaution to the children and staff at Fledglings pre-school.
Hepatitis A facts
Hepatitis A is a viral disease, which affects the liver.
The illness usually begins with a sudden onset of fever (temperature), feeling unwell, loss of appetite, nausea and stomach pain which is followed within a few days by jaundice.
The infection is most commonly spread from person to person by infected faeces (stools) and poor hygiene.
Good hand washing; especially after using the toilet, and before eating, is the most effective way to prevent hepatitis A spreading.
Illness may appear between 2 to 6 weeks after contact with an infected person.
Symptoms usually clear up within two months, although occasionally last up to six months. Older adults tend to have more severe symptoms.
In most cases the liver will make a full recovery.
Source: Public Health England