Women killed in Lyndhurst crash named by police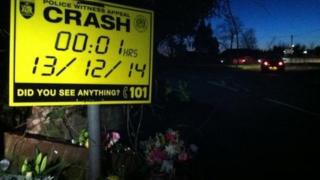 Two women who were killed when a car hit a wall in the New Forest have been named by police.
Lily Catherine Butterfield-Godwin and Abbey Rogers, both 19 and from Lyndhurst, were passengers in the car and died at the scene in Gosport Lane, Lyndhurst, on Saturday.
The driver, a 21-year-old man, and another passenger, a 19-year-old woman, were taken to hospital.
Their injuries were not life-threatening.
Head teacher Julie Turvey of Hounsdown School paid tribute to the former pupils.
'Popular and respected'
"Our hearts, thoughts and prayers go out to the families and friends of Lily Godwin and Abbey Rogers.
"We were saddened to hear of the tragic news of these two young people.
"Both girls were popular and well respected by staff and students alike.
"Our thoughts are also with the two other young people involved in the accident on Friday night, one of whom is also former student.
"The entire school community is thinking of the families at this very difficult time, and we will offer all the support we can to those siblings and friends at the school."
Prayers were said at a church service on Sunday for the women.
Police are appealing for witnesses.