Cdr Norman Holbrook's WW1 bravery commemorated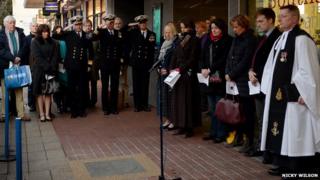 A World War One hero "largely lost to history" is being celebrated 100 years on from his daring raid at sea.
Cdr Norman Holbrook received the Victoria Cross (VC) after diving his submarine under mines to torpedo a battleship in the Dardanelles.
More than 100 members of his family gathered at events in Southsea and Gosport to commemorate his heroism.
Great-great-niece Samantha Axtell called it a "unique opportunity" to remember his "bravery and derring-do".
Members of the family, including his 92-year-old niece Elizabeth Holbrook, attended an unveiling of a memorial in Southsea, where he was born.
'Fraught with dangers'
Holbrook was a 26-year-old lieutenant when he received the VC, the highest military award for valour "in the face of the enemy".
His citation said it was for "most conspicuous bravery... when in command of the Submarine B-11, he entered the Dardanelles, and, notwithstanding the very difficult current, dived his vessel under five rows of mines and torpedoed the Turkish battleship Messudiyeh.
"Lt Holbrook succeeded in bringing the B-11 safely back, although assailed by gunfire and torpedo boats, having been submerged on one occasion for nine hours."
At the time the Navy was attempting to force a way through the narrow straits of the Dardanelles and open a supply route into the Black Sea.
Great-great-niece, Elizabeth Mooney, said the trip was "fraught with dangers, unexpected errors and malfunctions".
"The submarine, which had a broken compass... had to surface on occasion, leaving it open to attack," she said. "At one point, the boat had to grate along the bottom of the channel while going full speed."
Professor Dominic Tweddle, director-general of the National Museum of the Royal Navy, called it an "incredible story of bravery".
"In the face of real danger they refused to give in... we are very proud to be able to share this with his family."
The incident featured on cigarette card memorabilia, and a town in Australia changed its name to Holbrook in his honour.
Ms Axtell added: "We are thrilled to come together as a family to mark the 100th anniversary - to the day - of Cdr Holbrook's tremendous achievement.
"Cdr Holbrook was an ordinary man who - except in Australia - has been largely lost to history. The event today... puts that omission straight."
Donna Jones, leader of Portsmouth City Council, described him as a "true local hero".