Alan Titchmarsh to be University of Winchester chancellor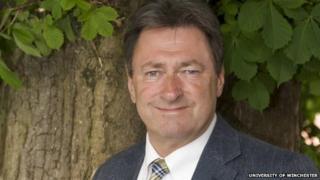 TV gardener Alan Titchmarsh has been revealed as the next chancellor of the University of Winchester.
The broadcaster, who has presented the BBC's annual coverage of the Chelsea Flower Show for 30 years, will succeed Dame Mary Fagan in the post in August.
Mr Titchmarsh said he was "honoured" to take on the role and said: "I have long admired the university's ethos and reputation."
Dame Mary will retire at the end of the academic year.
"It has been a privilege to be so closely associated with the University of Winchester for the past eight years," she said.
"The university has grown from strength to strength, largely due to the inspiration of vice-chancellor Joy Carter and her team, both in the significance of its academic research and the successes of its students."
She said Mr Titchmarsh would be "splendid".
The TV star became a deputy lieutenant of the county of Hampshire in 2001 and in 2004, he was awarded the Royal Horticultural Society's highest accolade, the Victoria Medal of Honour, for outstanding services to horticulture.
He is patron or president of more than 50 charities and organisations.