Hampshire police to train more Taser officers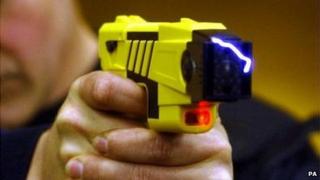 A further 60 front-line police officers in Hampshire are to be trained to use Tasers by the end of next year.
Experienced officers from the force's patrol teams and roads unit will be invited to take up the offer.
They will join more than 300 officers already permitted to carry the devices, which can deliver a 50,000-volt charge.
Police and Crime Commissioner Simon Hayes has agreed the £20,000 cost but said Taser use must be "justified, necessary and proportionate".
Ch Supt Scott Chilton said: "The experiences of using Taser show it can be an effective option for calming and resolving situations safely with less risk of serious injury to officers, suspects, victims and other members of the public.
"The force has listened and acted upon the views of officers, whom in a recent Police Federation survey supported an increase in access to Tasers."
A BBC Freedom of Information request revealed earlier this year that Taser use by police forces in the south of England had more than doubled between 2012 and 2013.
Amnesty International UK arms control director Oliver Sprague said: "The £20,000 being spent on Tasers training by Hampshire Police will only be a good investment if these officers are trained to the same high standard as firearms officers.
"Along with all other police forces in the country, Hampshire Constabulary also needs to be far more open about the full circumstances during which their officers are using this potentially lethal weapon on our streets.
"We're not against Tasers if used by specially-trained police officers trying to prevent a death or a serious injury, but we're worried that police forces are putting these dangerous weapons into the hands of under-trained officers who could use them during relatively minor disturbances and even to police non-violent protests."